Waste Incinerator
The solid waste incinerator produced by BETTER EPT can be used to treat several kinds of solid waste, including medical waste, animal bodies, industrial waste and residential waste. We can provide you several kinds of waste incinerator with different capability of waste treatment and we can provide customized waste incinerator that will meet your needs perfectly.
1. Animal cremation needs: cremation for dead animal bodies and pets carcasses, eg. dog, cat, chicken, duck, fish, birds, cattle, etc.
2. Medical wastes treatment: hospital wastes as bandage, swaps, needles, gauze, blood vessels, injection syringe, drop bottle, lab waste, expired drugs, infectious internal organ, napkin, diaper, mask, gloves, pharmaceutical waste, hazardous wastes, laboratories wastes, healthcare waste.
3. Farm incinerators: ideal for cattle farms, pig farms, sheep farms, stables, kennels, abattoirs, testing laboratories, catteries, pet crematoriums and poultry farms ABP rendering plants & other waste disposals.
4. Household Wastes disposal: rubbish, bottles, plastics, fruit peel, kitchen garbage, papers, trash, rags, leftovers, trees, leaves, flowers, roots, etc.
5. Industrial Waste burning treatment: the general waste or solid waste produced in industrial area and factories and construction sites, environmental or recycling facilities, landfills, manufacturing, mining, agricultural eg. rubber, plastic, fiber, paper, leathers, wood, glass, electrical waste, general & material, domestic wastes or from industrial activities, solid incinerator for solid waste in factories & construction sites.
6. Special Waste treatment: waste oil, waste solvents, oil sludge, ash dust, iron paint, mold filter residue and so on.
Model
WFS-30
WFS-50
WFS-150
WFS-300
WFS-500
Burning Capacity
20-30kg/load
30-50kg/load
50-150kg/load
200-300kg/load
300-500kg/load
Incinerator Size (L*W*H)
1.45*0.9*1.75
1.8*1.15*3
2*1.4*3.5
2.2*1.4*3.8
3*2*4.8
Input Size(mm)
480*600
620*800
760*960
900*1100
1080*1280
Chimney External Diameter (mm)
280
280
300
400
460
Air Blower
0.25kw
0.25kw
0.37kw
0.55kw
0.55kw
First Burner Device
0.12kw
0.12kw
0.18kw
0.18kw
0.25kw
Second Burner Device
0.18 kw
0.18kw
0.25kw
0.25kw
0.25kw
Voltage
customize
Weight(kg)
2800
5000
7600
8800
18000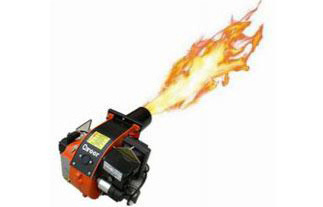 Career burner
This brand of burner is mostly used in BETTER EPT products, which is also widely used and trusted by clients all over the world. This type of burner uses a centrifugal nozzle to atomize the fuel, without using atomizing medium, with less energy consumption and lower noise. Besides, it can also be customized.
---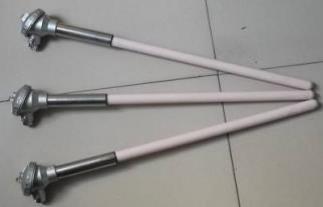 thermocouple
The thermocouple used in waste incinerator is made of high temperature resistant ceramics, the maximum temperature of which is up to 1600 degrees. So it has longer working life and stronger applicability.
---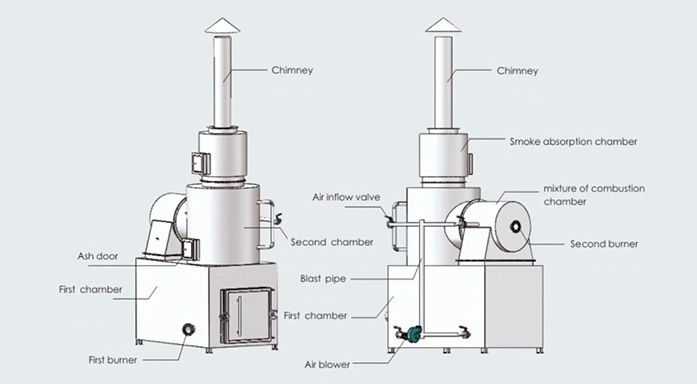 Side View
mixture of combustion chamber
combustion chamber
chimny
smoke purification room
ash cleaning door
second combustion room
combustor
Front View
air inflow valve
blast pipe
blower
chimny
smoke filtration door
furnace door
combustor
Waste incinerator is the device that treats waste by incineration. While the garbage is burned in the furnace, the exhausted waste gas will enter the secondary combustion chamber, to burn the combustible gas completely. There is a gas purification plant to absorb chlorine hydride and oxysulfide produced during the incineration and reduces the harmful component of the gas so it can be discharged.