Mechanical Bar Screen, Sewage Treatment Facility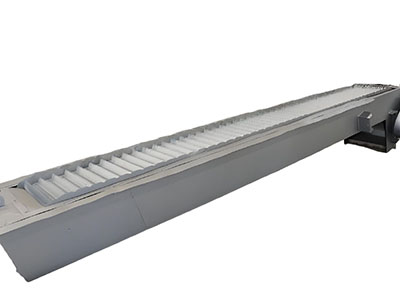 The mechanical bar screen produced by BETTER EPT can consistently and automatically intercept and remove all kinds of solid impurities from sewage. The structure of this mechanical bar screen is very tight, without taking up too much space and the operation is extremely easy, it can remove the dirties off the rake automatically. It is widely used in two gratings for water supply and drainage and water intake without floats.
Model
GSC-300
GSC-600
GSC-800
GSC-1000
GSC-1200
GSC-1500
Width of the machine (mm)
300
600
800
1000
1200
1500
Effective width (mm)
180
400
600
800
1000
1300
Power (kw)
0.55
0.75
0.75
0.75
1.5
1.5
Installed angle
60° 75° 80°
Rake clearance (mm)
3-25
Grate pitch (mm)
100
Height of sludge discharge (mm)
800
Operation speed (m/min)
~2.2
Width of tank (mm)
340
640
840
1040
1240
1540
All parameters of the mechanical bar screens can be customized according to your personal needs.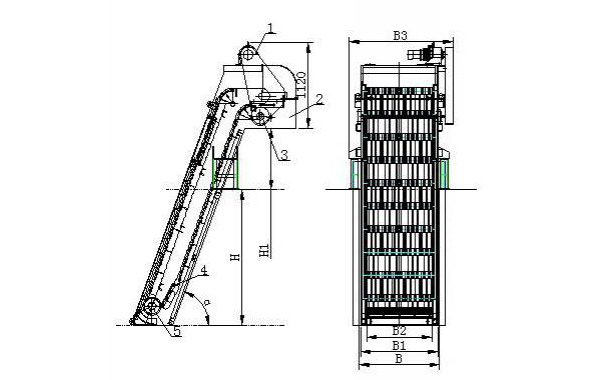 1. Driving system
2. Body frame
3. Rinsing mechanism
4. Rake
5. Guide mechanism
The rake of the mechanical bar screen with dirt moves upward along the rail and when they reach the top, under the guiding effect of the curved guide rail and the gear, the adjacent rake moves relatively, pushing the dirt on the rake out, and discharging into the contaminant container. Meanwhile, the little residual dirt on the rake will be removed by the special-made rotating brush.
There are two standards for the rake pitch, 100mm and 150mm, and the 150mm pitch is suitable for large grille clearance.
The grille clearance can be customized from 3mm to 50mm according to needs.
The width of the mechanical bar screen can be customized from 300mm to 3000mm according to clients' requirements.
The rake of the mechanical bar screen group into a grid surface, and with the addition of the stainless steel guard plate, it will not be blocked.
The installation of the mechanical bar screen uses integral hoisting technique, so no other support is needed on both sides of the catchment well, but two steel plates underground, the size of which are 620mm *150mm*16mm. The supporting steel plates on both sides of the frame can be welded into one body when installing.
We are a trusted manufacturer of wastewater treatment equipment and have been constructing complete wastewater treatment plants with over 13 years of experience. We have provided complete sewage and wastewater treatment solutions for industrial and municipal applications. We can configure the plant with the right machines to meet customer requirements. Here are some examples of our wastewater treatment solutions. Whether you need sewage and wastewater machines or plants, we have the capability to provide custom products for you.