Packaged Wastewater Treatment Plant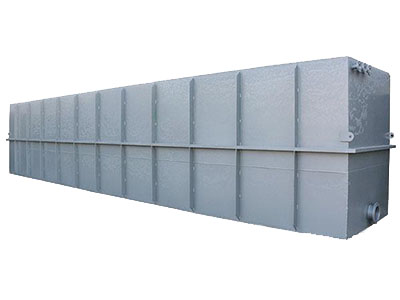 The package wastewater treatment plant produced by BETTER EPT can effectively remove BOD5, COD and NH3-N and can be built underground so it will not take up much space, or require constructing new buildings above the ground. Since it's built underground, it has no use for heating and you can grow beautiful flowers or grass on the ground surface to beautify the surrounding environment. The package sewage treatment plant is widely used for residential sewage treatment in hotels, restaurants or malls.
Model
WSZ-0.5
WSZ-1
WSZ-2
WSZ-5
WSZ-10
WSZ-20
WSZ-30
Capacity (m3/day)
12
24
48
120
240
480
720
Oxygen supply system
Air flow (m3/min)
0.15
0.31
0.59
1.02
2.5
4.11
6.7
Wind load (m,mh2o)
1250
1500
2000
2200
2500
2500
2500
Power (KW)
0.55
0.75
0.75
1.5
3.0
5.5
7.5
Sewage pump
Flow (m3/h)
0.5
1
2
5
10
20
30
Head (m)
10
10
10
10
15
15
9
Power (KW)
0.75
0.75
0.75
0.75
1.5
2.2
2.2
Number of equipment
1
1
1
1
1
2
3
P.S: The parameters can be customized.
The package wastewater treatment plant produced by BETTER EPT can be built underground and of course, it can also be built on the ground based on the customer's needs.
Biological padding is added in the package sewage treatment plant to improve the removal rate of the organics in the sewage.
This kind of package sewage treatment plant is automatic controlled, so it runs safely and reliably, without the need of special management but only timely maintenance of the equipment.
The collected sewage will first be treated by the mechanical grille, which can remove large solids to avoid blocking the pump, allowing for later stable treatment; Then water quantity and quality will be balanced in the regulating tank and be pumped into later package sewage treatment plant, AO sewage treatment plant, through the adsorption and degradation of biological bacteria for residues in the wastewater, and then flow into the sedimentation tank, the excess sludge will sediment in the sedimentation tank, then for later filtration and disinfection.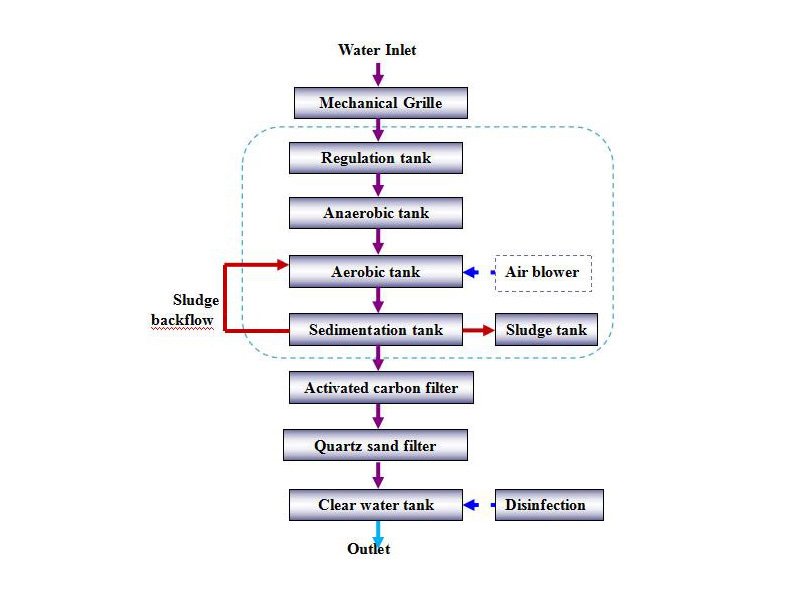 Wastewater Treatment Process:
1. Water Inlet
2. Mechanical Grille
3. Regulation tank
4. Anaerobic tank
5. Aerobic tank
6. Air blower
7. Sedimentation Tank
8. Sludge backflow
9. Sludge tank
10. Activated carbon filter
11. Quartz sand filter
12. Clear water tank
13. Disinfection
14. Outlet
We are a trusted manufacturer of wastewater treatment equipment and have been constructing complete wastewater treatment plants with over 13 years of experience. We have provided complete sewage and wastewater treatment solutions for industrial and municipal applications. We can configure the plant with the right machines to meet customer requirements. Here are some examples of our wastewater treatment solutions. Whether you need sewage and wastewater machines or plants, we have the capability to provide custom products for you.