Inclined Plate Clarifier, Sewage Treatment Equipment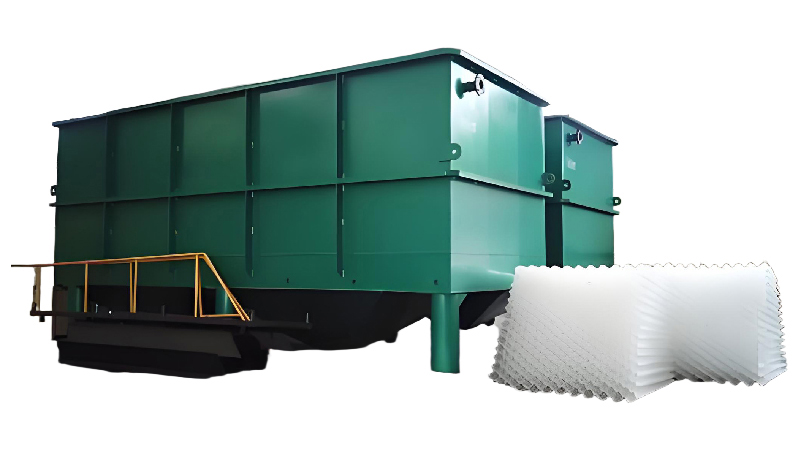 The inclined plate clarifier produced by BETTER EPT can improve the precipitation efficiency by fifty to sixty percent, and it's widely used in industrial wastewater treatment, residential sewage treatment, non-ferrous metal processing wastewater treatment, power plant wastewater treatment, treatment of hydraulic dust removal wastewater, gas stations washing water treatment, biochemical water treatment and many other wastewater with various suspended matter purification. We can provide you with customized services based on your special needs.

slurry separation area with incline tube
water inlet
sludge area
clean water area
collection tank
sediment particle
The inclined plate clarifier is an efficient combined precipitator based on the theory of shallow pool sedimentation. By setting many dense inclined pipes or plates in the settlement area, the suspended matters in the water will be precipitated in the inclined plates or pipes and the water flows upward along the inclined plates or pipes while the sludge slides downward to the bottom of the tank under the action of gravity and finally be discharged centrally.
| | | |
| --- | --- | --- |
| Model | Capacity (m3/h) | Size (L×W×H) mm |
| XG-5 | 5 | 1500×2000×2500 |
| XG-10 | 10 | 3500×2000×2500 |
| XG-15 | 15 | 5000×2000×2500 |
| XG-20 | 20 | 6000×2200×2500 |
| XG-25 | 25 | 8000×2200×2500 |
| XG-30 | 30 | 9000×2200×2500 |
| XG-40 | 40 | 10000×2200×2500 |
| XG-50 | 50 | 12000×2200×2500 |
Inclined pipe

Inclined plate
We are a trusted manufacturer of wastewater treatment equipment and have been constructing complete wastewater treatment plants with over 13 years of experience. We have provided complete sewage and wastewater treatment solutions for industrial and municipal applications. We can configure the plant with the right machines to meet customer requirements. Here are some examples of our wastewater treatment solutions. Whether you need sewage and wastewater machines or plants, we have the capability to provide custom products for you.